Temps de lecture :
30
minutes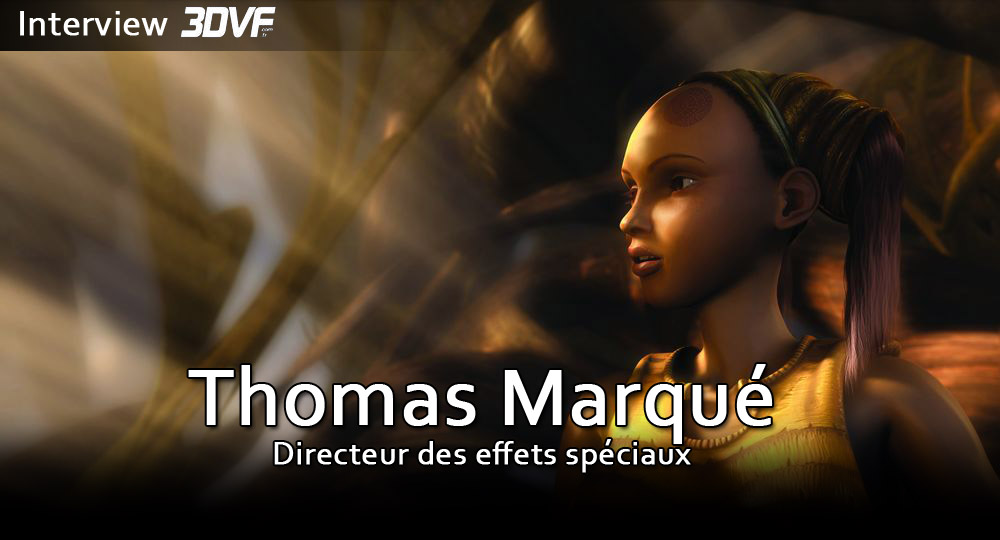 3DVF : Thomas, how did you come to Chris Delaporte and the Kaena project ?
Thomas Marqué : End of the year 1996, I was working for a small video games company called IN VIVO. I was working on the a real time sets of a terrific project called Athanor, never to be released, like many other projects at the time· Then came two cool young guys (Chris Delaporte and Patrick Daher) who were going from a company to another, looking for contacts for their game project : Gaïna. They were looking for a real time sets artist and seemed really enthusiastic about my own work. We talked about Gaïna and, two month later, I was joining Chaman, a really young company based in Neuilly (suburbs of Paris, France).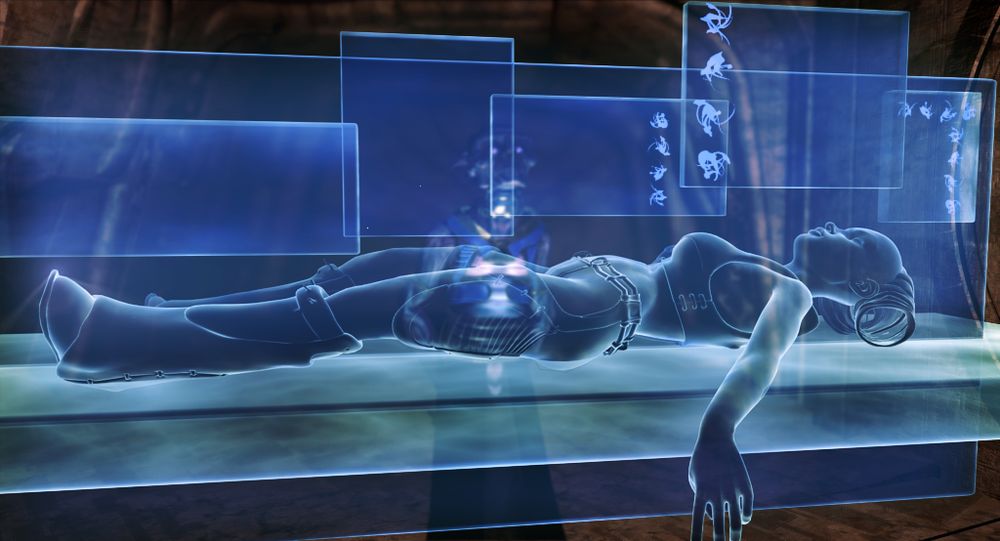 In February 1997, I started working on the real time sets of the game Gaïna. After a year, we had a fully playable demo, and at the same time, Chris, Patrick and a small talented team were assembling the first cinematic of the game, shown to many producers, including Canal + (French private TV group) . All the different producers were attracted by the universe settled in the game and proposed turning it into a movie !
Then started the adventure. I thought, at the time, that all this was quite crazy. One day, Denis Friedman (Chaman Boss) told me : ·Do you want to deal with the sfx on the movie?· Of course, I accepted the offer ! Then I started working on the R&D because the sfx of the movie had to be numerous and varied.
3DVF : How was made the decision to work with 3ds max 3 ?
Thomas Marqué : In 1997, we had started working on the real time set with 3ds4 : a fast, stable and flexible software, unbeatable at the time. In fact, we were all working on the DOS version of 3ds. The work on Kaena started on Max 2. Choosing 3ds max 3 seemed logical to us, even if a lot of people told us it was not going to work and that max on only good for video games (ur//medias.3dvf.com/publish/kaena/ban legend if you believe me·). Next, we updated to max 3.1 without thinking about it and we ·forced· ourselves to finish the movie on this version for plugins and files compatibility reasons.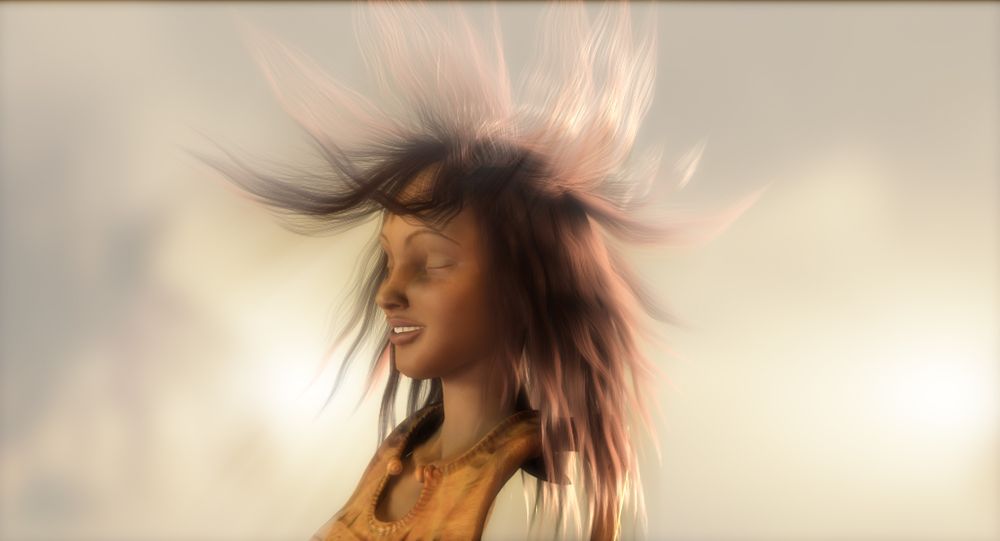 For the special effects, I tested different plugins, all for max : Realflow/Realwave, Simcloth, clothreyes, Afterburn. Elrik joined me to specialize in fluid dynamics. We opted for Realflow. Everything was leading us to a 100 p.cent max production.

3DVF : What technique did you use to create the Kaena characters hair and cloth and how did you animate them?
Thomas Marqué : Here is a subject that has always been fascinating me. At the beginning of the adventure, Kaena was going to have dreadlocks. Using dreadlocks is difficult because of their thickness and if any is to collide with the mesh, you can see it at first glance. From the very beginning I chose a dynamic based on cloth, Clothreyes at first and then Simcloth. We forgot about the dreads and I told Chris that maybe the challenge brought by thin and long hair was worth it.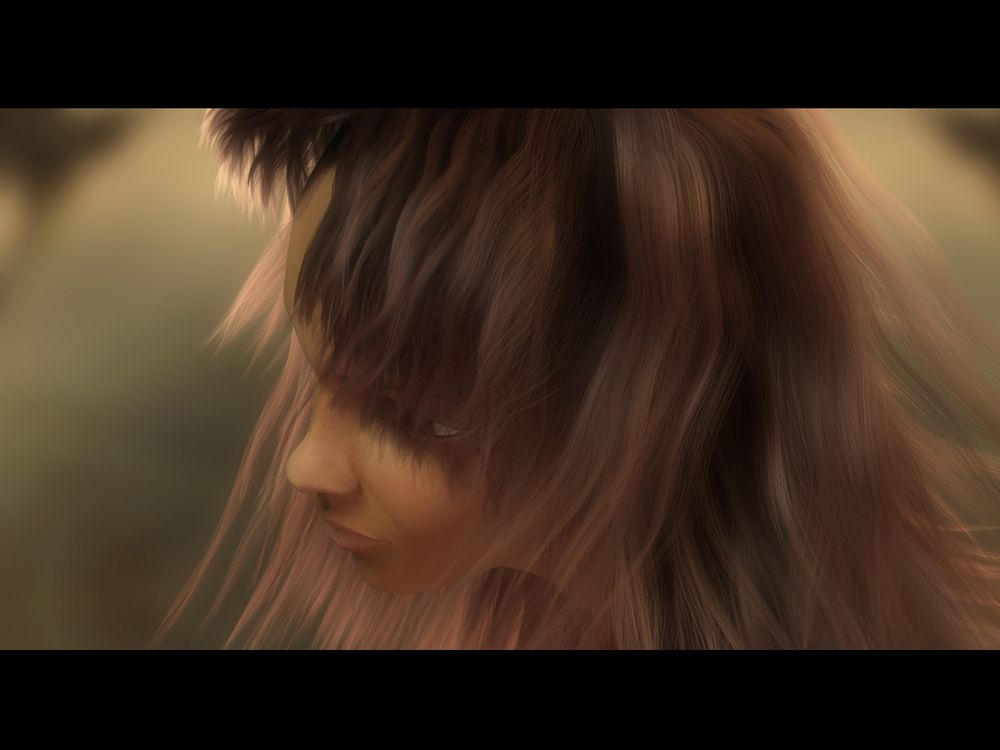 I had noticed that, in 3D, hair were not often long and untied; in Toy story, Sid·s young sister has a really static haircut that doesn·t touch her shoulders, same thing in Final Fantasy (lot more beautiful though). In Shrek, the good old plait in the princess back (reduced risks of collisions). According to me, the only successful example of hair dynamics can be seen in Blizzard cinematics
The collisions of the hair-shoulders-face elements were a problem in Simcloth (Chaosgroup, coder : Vladimir Koylazov). I have to say that today Simcloth is still at the incredible price of zero euro. So I modelled 20 strips of cloth scattered on Kaena·s head, to be used a reference by shagHair, through the medium of another free plugin called mesh-to-spline. Of course, this method doesn·t always work. There had been many corrections because of too violent shocks with the mesh or with complex poses of the character.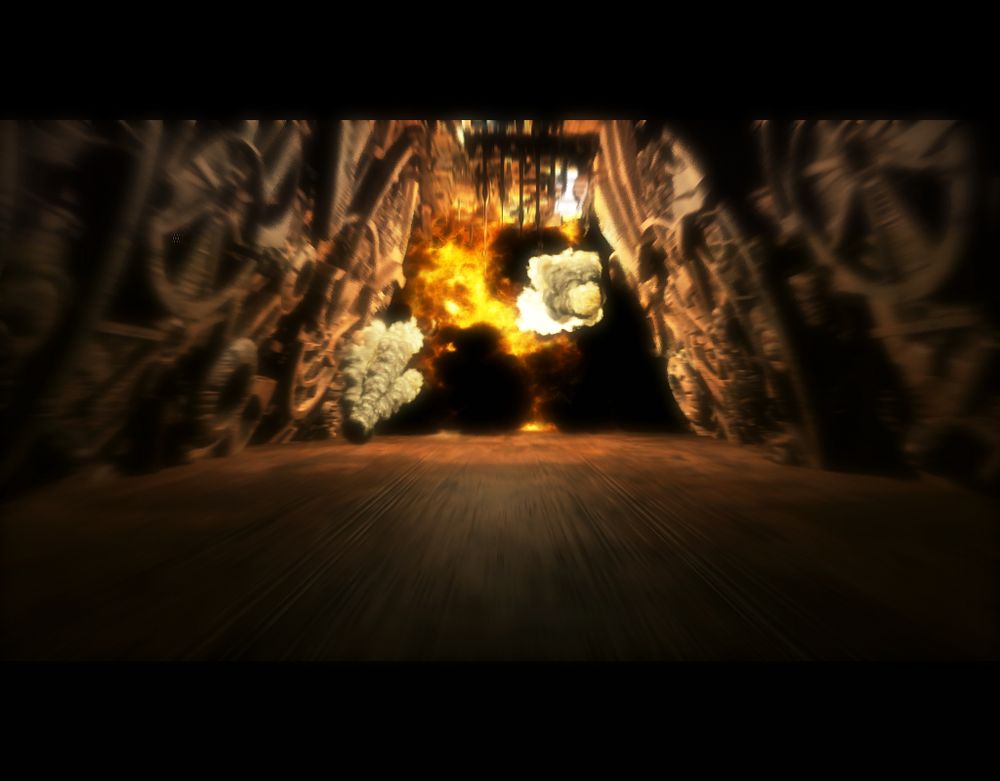 We also used direct dynamics of ShagHair, mainly the wind. A Canadian animator, Emilio Gorayeb also helped us. He solved many difficult takes, only using ShagHair. Finally, we van say that at least half of the team worked on the ·hair problem·. Today more reliable solutions can be found thanks to more and more powerful processors and the development of numerous new tools. By the way, I could test the rope function in Discreet Reactor and it can produce amazing results.
3DVF : Chris told us that the introduction took you about 3 years of work Can you tell us about this scene?
Thomas Marqué : Three years indeed, off and on. I grabbed the opportunity to work on this 3 minutes long sequence at the very beginning of the project. Quite often, Chris was telling me about a lost Alien ship at the beginning of the movie, with no precise idea on the subject. But I had a precise idea !
Very often, in movies starting in deep space, with the camera focusing on one or more ships (Starwars, Alien, ·), the director chooses a general take, most of the time imposing and tripping (deep infrabass), and when the camera is close enough, the take is always cut and we end inside the spaceship, following the actors. The idea was not to cut this very sequence. The ship is flying toward us and all of a sudden we cross right through it, furtively catching the moments of panic caused by the disaster.
Tarik Hamedine made a front view drawing of the spaceship and I started modelling and testing camera travelling shots. I often interrupted this very work to deal with other effects. Consequently, this sequence could only be fully delivered at the beginning of the year 2002. For the inside of the spaceship, I gathered all the elements modelled by other members of the team and tried to make something coherent. Leading a sequence from the idea to the compositing is a marvellous experience and I was luck enough to do the same thing on a few other takes of Kaena.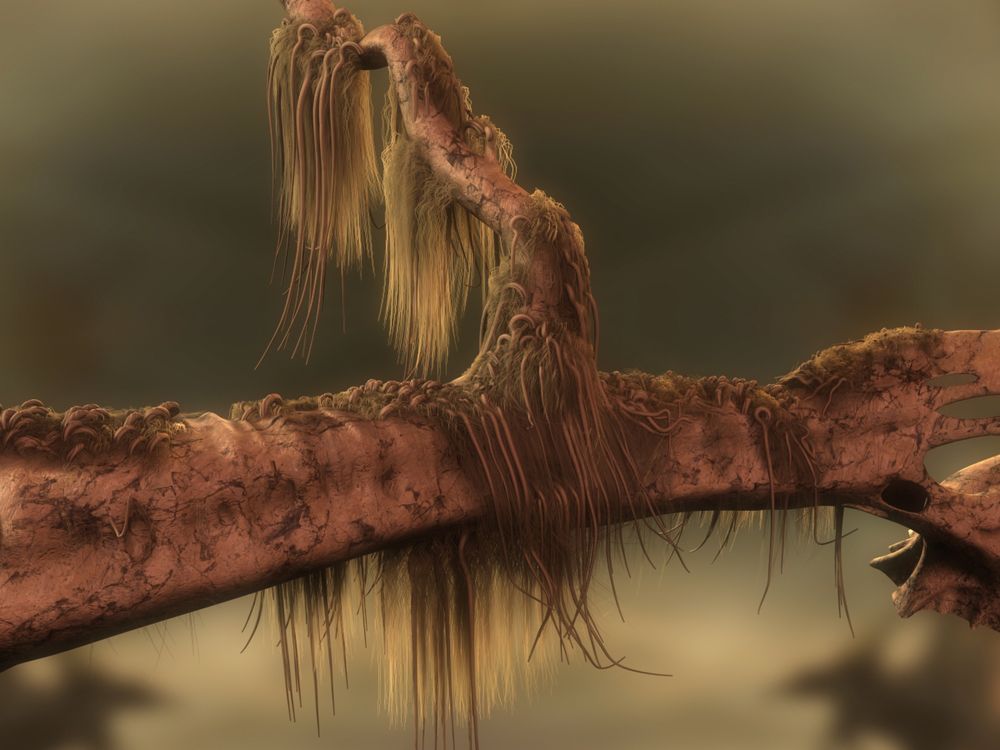 3DVF : We asked Chris the following question : As a director, what are you expecting from computer assisted creation software ? He answered :· I am no longer expecting much from software that today are becoming more and more powerful. We know have to devote ourselves to story writing and the creation of universes. The flexibility of 3D tools gives opens us the way to an infinite field of creation. 3D can finally be considered as a creation tool by itself. Tools have evolved enough so we can now that the only limit is that of the imagination of the artists. You should interview Thomas Marqué. He has a really interesting theory on the subject. Could you tell us about this theory ?
Thomas Marqué : Of course. I try to use the 3d tools at their maximum. After a lot of tests, I figured out that a lot of them can be diverted from their initial purpose and become real tools for creating images without any 2D preparatory drawings.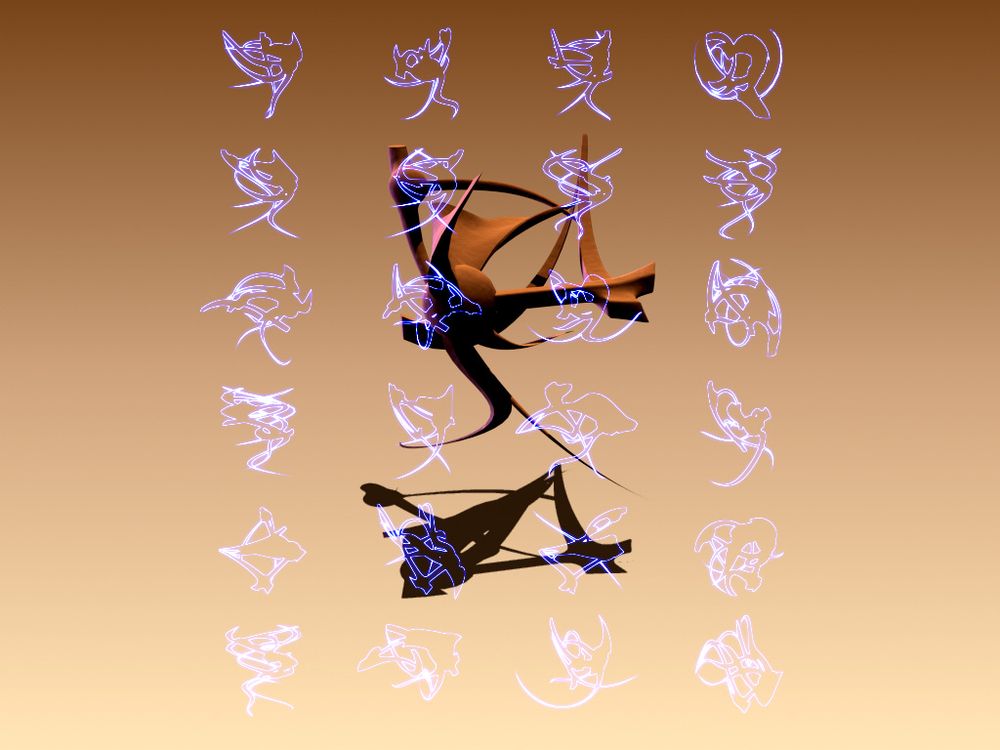 The most simple thing to do is to give you a concrete example. About three years ago, Chris had had the idea of creating a typo for the Alien race from Hoppaz (the Vecarians). He asked me if I had an idea on the subject. The Vecarians are a developed specie, I thought a 2D typo was to simple to graphically enhance their environment so I opted for a 3D solution derived from a single object (kind of a typographical mould) which was used to make all the characters by applying on it simples deformations (twists, rotations). If you look at this object from different angles, you get a "drawing" that can vary to an infinity of shapes. The only problem has been to find the right 3D object, that had to be simple but varied.
When you have a look at the picture above, the mould is the one at the centre, and, in blue, a few examples rendered after the mould has been deformed. In this example, I have only used 3D tools with no preparatory design. The benefits are that the final result is very flexible (if you need new characters, they can be created within a minute) and directly useable in the movie since the database is 3D from the start to the end of the process.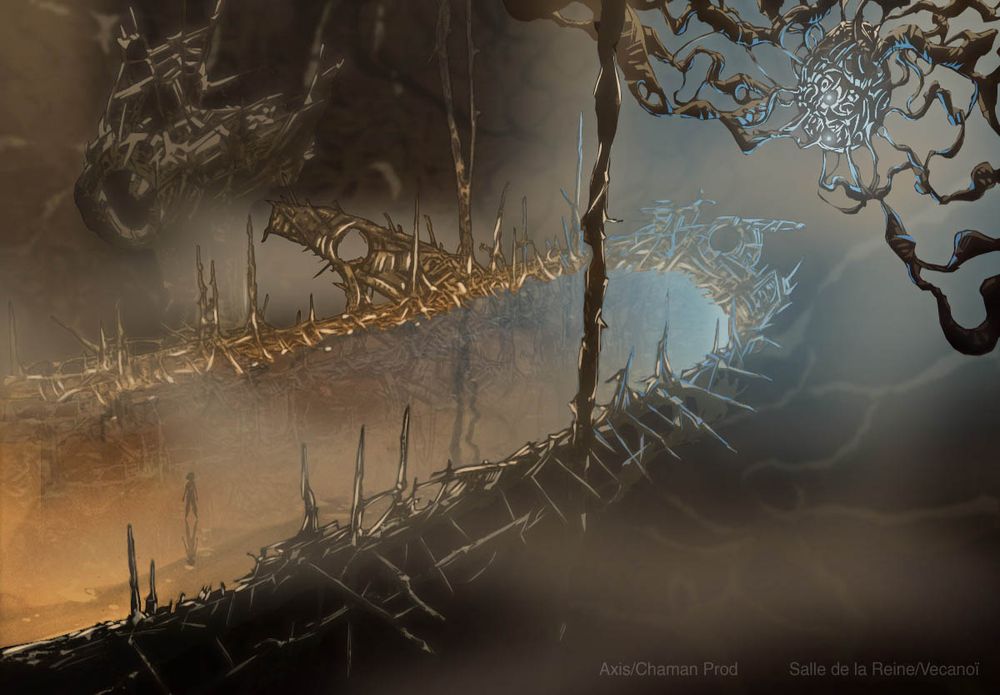 This method, we could call ·3D design· is interesting for sfx since the possibility of the tools are exploited from the very beginning without even trying to stick to a reference 2d design, design that can hardly be modified by directors due to 3D problems.

3DVF : What have you learned from this adventure?
Thomas Marqué : It was a fantastic adventure for me. I was free to do a lot of things as I wanted to do them quite freely and lucky enough to deal with almost every fields of 3D. When you realize the experience we acquire on this movie ·thanks· to the numerous problems encountered, we can say that, in France, we are perfectly able to produce 3d movies, not so expensive, favouring the story told rather than the technological feats.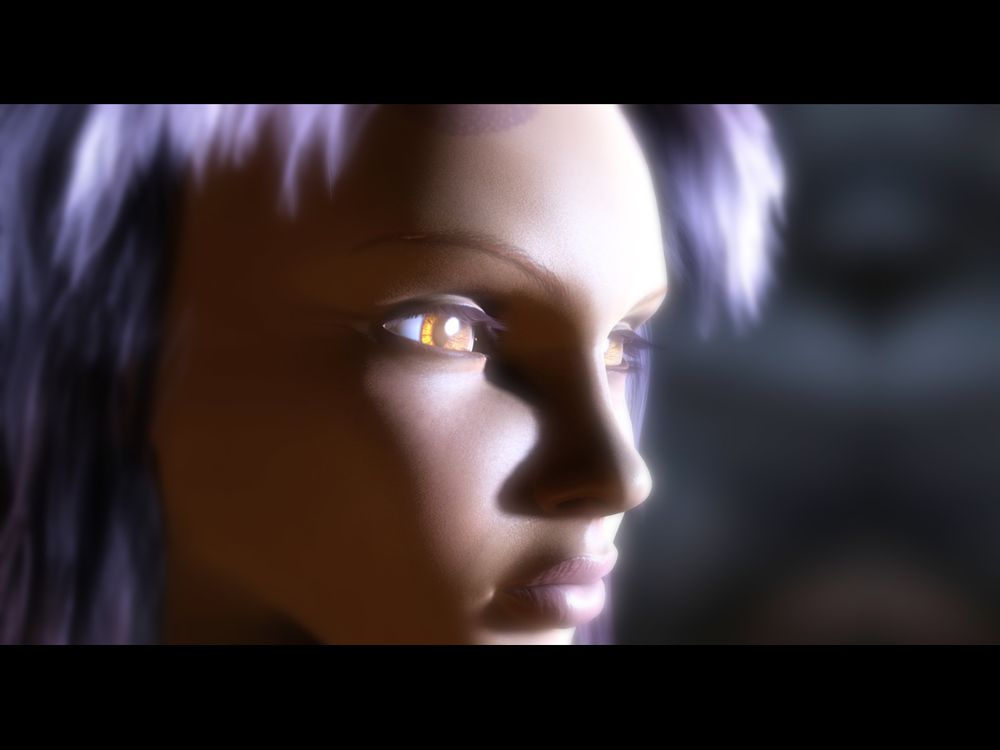 I do think that 3ds max is reaching its maturity today. Many problems could be avoided or solved in a future possible production. I wish by the public will enjoy Kaena. It could open the path to the production of other 3d movies in France. And those, according to me, really are part of the french cinema.
3DVF : Thanks Thomas for this great discussion. All the best for the rest of your career.
Thanks to Cyril Grégoire for the English translation.