En septembre dernier, nous revenions sur la fermeture de Kerner Optical, studio issu d'ILM et spécialisé depuis 30 ans dans les effets visuels « à l'ancienne », ou practical FX : maquettes, décors, props…
Un groupe d'anciens employés de Kerner Optical et d'ILM a décidé de ne pas en resté là, et annonce aujourd'hui le lancement de 32Ten Studios, qui sera situé sur le site historique d'ILM (Kerner Boulevard, à San Rafael en Californie, dans les locaux de Kerner Optical).
Le studio sera possédé par ses employés, et dirigé par le vétéran du secteur Tim Partridge (Président) et Greg Maloney (COO).
Le positionnement de la nouvelle entité sera le suivant :
– location du plateau son déjà en place aux projets extérieurs ;
– créer un nouveau « foyer » pour un grand nombre d'artistes d'ILM et de Kerner spécialisés dans la création de modèles et les practical FX.
– services de VFX en complément des practical FX
Le tout visera films, films indépendants, TV, publicité, industriels ou encore web.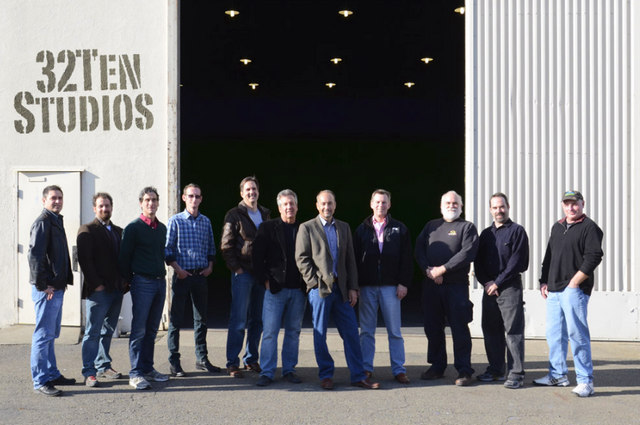 Photo d'une partie de l'équipe posant fièrement devant le nouveau studio, tirée du site officiel de 32Ten.
Le but semble donc clairement de faire naître un studio axé sur le même créneau que le défunt Kerner Optical, en faisant table rase des problèmes financiers passés. On ne sait pas, pour le moment, si ILM fera appel à eux : rappelons que la chute de Kerner Optical était justement liée au fait qu'ILM avait décidé de se passer des services de ce studio.
Voici le communiqué de presse complet :
From 32TEN Studios press release
San Rafael, CA – A group of former employees of ILM and Kerner Optical have announced the launch of a new company, 32TEN Studios, which will be based at the former site of ILM, at 3210 Kerner Boulevard in San Rafael, CA. The new venture will be employee owned and will be headed by industry veterans Tim Partridge, who will serve as President, and Greg Maloney who will serve as COO.
The new company will rent its historic soundstage to outside projects, and will also provide a new home base for many of the elite model makers and practical effects technicians of Marin County, who were previously employed by ILM, and, later, by Kerner Optical.
Members of the 32TEN Practical FX Team have created movie magic for over 20 years on this historic soundstage, starting with "The Empire Strikes Back," and continuing on with "The Return of the Jedi," the "Back to the Future" trilogy, the "Pirates of the Caribbean" films, "War of the Worlds," "Indiana Jones 4," "Harry Potter and the Goblet of Fire," "Transformers," "Terminator Salvation," the 2009 "Star Trek," "Iron Man II," and dozens more.
« We are delighted that the facility at this famous site has been reopened, and we will be able to continue creating amazing realistic effects for mainstream and independent filmmakers, » said Geoff Heron, Practical FX Supervisor with ILM and Kerner Optical. Heron's work included FX contributions to such films as "Mission Impossible III," "Evan Almighty," "Terminator Salvation" and "The Last Airbender," among many others.
« All the model makers in the area are excited about this new venture, and can't wait to start building once again, » said Nick D'Abo, Model Supervisor with ILM and Kerner Optical, whose work was featured on movies such as "Star Wars: The Phantom Menace," "Transformers," Star Wars: Revenge of the Sith," and most recently "Priest" and "Cowboys and Aliens".
To complement the practical FX, 32TEN will also offer a digital VFX facility for finalizing shots and finishing projects.
32TEN Studios will offer its facility for rent to producers of projects from across all media. The approx. 6,000 sq. ft. soundstage boasts a 20-foott high, two wall coved green screen. Adjacent to the soundstage is the 32TEN screening room, which offers 138 seats in one of the most luxurious theaters in the area. Wardrobe, make-up and production offices will also be available for rent within the site.
« This building has an amazing movie history, and we are delighted to be able to offer it to all Bay Area producers, » adds Tim Partridge, CEO, 32TEN Studios. « We also wanted to provide a place where the many gifted artist who live in the area can, once again, create their unique form of film magic. 32TEN is a collaborative venture, one that will hopefully attract other service providers and filmmakers in need of a vibrant location for their projects. "
 "We want to build a creative community around this once legendary site, where many of us got our start in the industry" said Mr. Maloney.  "The experience in FX among the people here is incredible and we want to make that expertise, and this facility available to content creators everywhere"
ABOUT TIM PARTRIDGE:
Before his role overseeing the practical effects and 3D Technology units at Kerner, Partridge was a key executive at Dolby Laboratories where, for over 20 years, he stood at the forefront of the entertainment and entertainment-technology industries.  He was a key player in the introduction of "Dolby Digital" and led the development of "Dolby 3D."
As a Dolby sound consultant Tim worked on over 100 films, including "Goldeneye," "Highlander," "Shadowlands," and "Willow," to name a few. He also served the company in a number of other major posts, including that of Dolby's Senior Vice President/ General Manager of the Film, Cinema and Broadcast Division.
ABOUT GREG MALONEY:
Prior to co-founding 32TEN Studios, Maloney was a Stereographer and Lead Compositor with Robert Zemeckis' ImageMovers Digital company. During this time, he was involved with the feature films "Disney's A Christmas Carol" and "Mars Needs Moms."
From 1989-2007, Maloney worked in house with ILM as a Compositing Supervisor, and earlier as a CG Supervisor and a Compositor. Among the many ILM projects on which he worked are "Twister," "Star Wars: Episode 1," "Men in Black 2," "The Chronicles of Narnia," "Transformers," "Star Trek: First Contact," "Schindler's List," "Jurassic Park," "Terminator 2: Judgment Day," "Forrest Gump," "Planet of the Apes," and three of the hit "Pirates of the Caribbean" feature films.
ABOUT 32TEN STUDIOS:
Launched in early 2012 by longtime entertainment industry leaders Tim Partridge and Greg Maloney, 32TEN Studios is both a stage rental and practical FX production company located at the historic site of first ILM, and later Kerner Optical. The company provides its services to producers of major motion pictures, independent films, TV programs, commercials, industrials, web content and multi-media projects. www.32ten.com