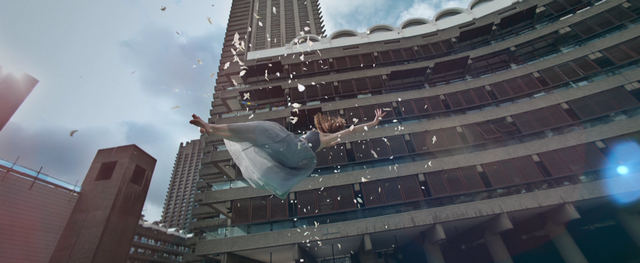 Matt McDermott présente son court-métrage Gravity's Law, inspiré par un poème de Rainer Maria Rilke et commandé par Channel 4 Random Acts.
Le réalisateur indique s'être inspiré de thèmes tels que la méditation et la nature pour proposer une réponse à la surcharge d'information liée à la société moderne.
Les effets visuels ont été supervisés par Pryce Duncalf.
Gravity's Law from Matt McDermott on Vimeo.
Crédits :
Cast: Sarah Mac & Neil Newbon
Narrated by: Bill Fellows
Director: Matt McDermott
Producer: Serena Fylan
Production Company: The Gate Films
1st Assistant Director: Stephen Fylan
Director of Photography: Tim Green
Focus Puller: Sam Rawlings
Phantom Technician: Stephen Price
2nd Ac: Chris Starkey
Camera Trainee: Tom Green
Stunt Coordinator: Curtis Rivers
Floral Designer: Fiona Haser Bizony at Electric Daisy Flower Farm
Art Director: Chris Williams
Stylist: Aartthie Mahakuperan
Stylist Assistant: Grace Quinn
Make Up Artist: Linda Andersson
VFX Supervisor: Pryce Duncalf
Runners: Glemerson Carrilho & Oliver Jamieson
Communications Coordinator Barbican: Jessica Dare
Lead CGI & VFX: Munk Studios
Additional Post & Clean Up: Mainframe
Colourist: Matt Osborne at The Mill
Colourist Assitant: Jim Bracher
Editor: Fab Peters
Original Score & Sound Design: Aleah Morrison-Basu at Zelig Sound
Storyboard Artist: Maylin Gouldie
Picture Research: Louise Wilkinson
Treatment Copy Editor: Dan McDermott
End Titles Design & Animation: Matt McDermott
Shot on location at the Barbican Centre.
Thanks:
To all cast, crew and post production for their great help and support.
Special Mention to: Serena Fylan, Tim Green, Pryce Duncalf,
Pegah Farahmand, Fiona Haser Bizony, Sarah Mac & Neil Newbon.
Dan McDermott and Louise Wilkinson for their wisdom and love.
Barbican Interview – Meet the Director – Gravity's Law:
blog.barbican.org.uk/2016/05/meet-the-director-gravitys-law/
Video of the Day Winner:
votd.tv/winners/1920/gravity-s-law
The Creators Project:
thecreatorsproject.vice.com/blog/rilke-inspired-short-film-gravitys-law
Gravity's Law Facebook Page:
facebook.com/GravitysLaw/