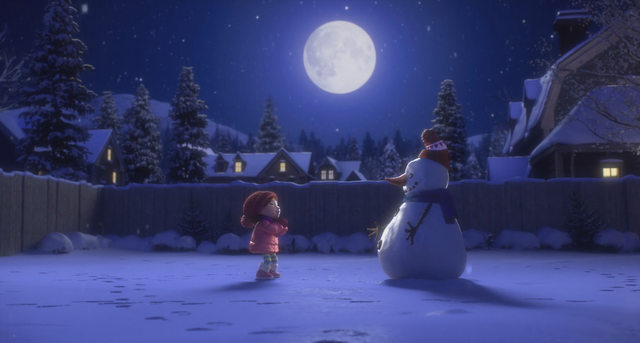 Hornet présente Lily and the Snowman, une sympathique publicité pour Cineplex (exploitant de salles de cinéma au Canada).
Réalisé par Dan & Jason (réalisateurs chez Hornet) ainsi que Hyesung Park, le projet a aussi fait appel au talent de Peter de Sève pour le character design.
Cineplex – Lily and the Snowman from Hornet on Vimeo.
Production: Hornet Inc.
Director: Dan & Jason, Hyesung Park
Executive Producer: Hana Shimizu
Head of Production: Greg Bedard
Producer: Desiree Stavracos
Storyboard Artist: Angela DeVito
Editor: Anita Chao, Stephanie Andreou
Art Director: Hyesung Park
Character Designer: Peter DeSeve
CG Supervisor: Arman Matin
CG Generalist: Richard Kim
Lead Compositor: Herculano Fernandes
Designer: Hyesung Park
Compositor: Allison Kocar, Isaiah Palmer
Modeler: Pedro Conti, Javier Leon, David Soto
Shading/Texturer: Javier Leon, ShuChen Lin, Kwan Au
Rigger: Lee Wolland, Michael Altman
Lighting & Rendering: Arman Matin, Susie Hong, ShuChen Lin
Particle FX: Andy Guttormsson
Pre-Viz: Arsen Arzumanyan, Matt Parent, Michael Altman, Bogdan Mihajlovic
CG Layout Artist: Arsen Arzumanyan, Kwan Au
Matte Painter: Dark Hoffman, Hyesung Park
Animators: Jamil Lahham, Goran Ognjanovic, Hee Jin Kim, Shendy Wu
Render Wrangler/Lighting Support: Kwan Au
Poster Designer: Denny Khurniawan
Aaron Platt: Director of Photography
Agency: Zulu Alpha Kilo
Chief Creative Officer: Zak Mroueh
Executive Creative Director: Allen Oke
Associate Creative Director: Noel Fenn, Andrew Caie
Art Director: Guilherme Bermejo
Writer: Nick Doerr
Clients: Susan Mandryk, Peter Furnish, Darren Solomon, Maxine Chapman, Laura Mingail
Agency Producer: Tara Handley
Account Team: Mike Sutton, Roy Gruia, Laura Robinson
Strategic Planner: Ebrahim El Kalza, Shari Walczak
Rep: Hesty Reps, Lisa Batke
Audio/Music House: Vapor Music
Audio Director: Joey Serlin, Brendan Quinn
Producer: Kailee Nowosad
Engineer: Julian Rudd
Music Licensing: Heather Gardner
Singer English: Adaline
Singer French: Julie Crochetiere
Original Composition of Genesis "Follow you Follow me" by Vapor Music