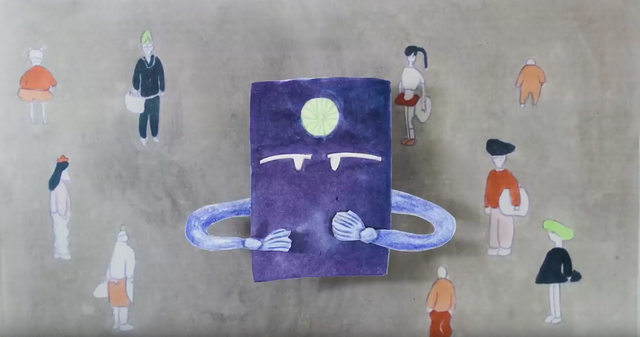 Produit par le collectif japonais NOddIN et illustré par une trentaine d'artistes et studios, What Happens Before War ? est un court-métrage pacifiste créé en réaction a l'évolution du Japon ces dernières années et ces derniers mois.
Historiquement, la constitution du pays (mise en place après la seconde guerre mondiale) comporte dans son article 9 la renonciation explicite et définitive à la guerre : le Japon renonce donc à disposer d'une armée, et ne s'est doté que d'une force d'autodéfense.
Cet article a été profondément affaibli en septembre dernier : le gouvernement a approuvé une réinterprétation selon laquelle soutenir militairement des alliés à l'étranger est autorisé. Le raisonnement : ne pas les soutenir pourrait risquer d'affaiblir les alliés, et donc de mettre en danger le Japon.
Adapté d'un livre illustré de 2004, ce court est donc un projet destiné à rappeler les valeurs historiques du Japon, et à lutter contre la poussée belliqueuse promue par une partie du champ politique japonais.
Le court est en japonais mais des sous-titres anglais êuvent être activés via l'interface Youtube.
Voici également le message qui accompagne le court, et qui reprend globalement les explications que nous donnions plus haut :
Hello all,
Are you familiar with a book called What Happens Before War?
This is a picture book produced in 2004 by a group of people who had the realization that Japan might be headed toward war.
2015 marked the 70th year since World War II came to an end. We thought the sorrow and absurdity of war must not be repeated and decided to make this picture book into an animation piece in order to make the story known to a wide audience.
"NOddIN" (pronounced NOddIN) is a collective launched by filmmakers and artists in the wake of the 3.11 Great East Japan Earthquake and related Fukushima nuclear power plant accident. With the cooperation of a large number of Japanese animation artists, we spearheaded this self-production with the aim to animate the words of the book round-robin style, and our collaborative project was begun. After over a year of production including the conception period, we completed our short film.
Those of us residing in Japan have lived for the past 70 years in a country with no direct experience of war. If we continue on the way we have been heading, however, the next generation may end up having to experience it. A generation with no knowledge of war themselves may, by their own convenience or through lacking a sense of responsibility, end up pushing it onto the generation following them.
We each have our own standpoint.
However we might debate it politically, though, and whatever interpretations we might hold, our belief is that the thought we can all say YES! to without question is: "We must not go to war."
The legacy of these 70 years of peace — of Japan, this country that made the choice to renounce war constitutionally — was built on great sacrifice. Whether or not that legacy can be passed on to the next generation will depend on the ability of each of us to make a step toward that end.
With gratitude to the many people who collaborated with us on this, and in the hope that this story might touch the hearts of many to become a foundation stone for peace,
The NOddIN team
October 2, 2015
Via Catsuka.