Temps de lecture :
11
minutes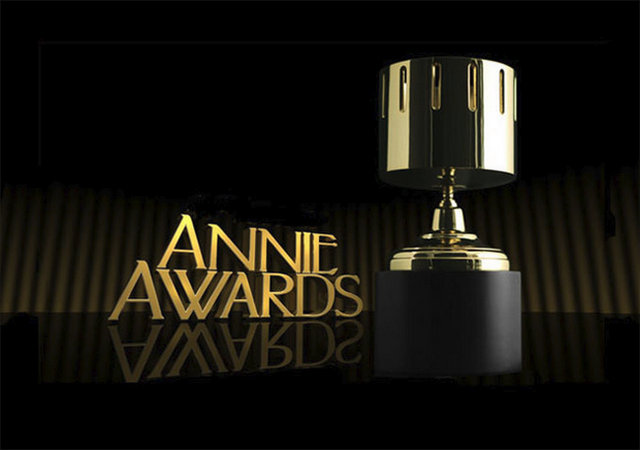 Les nominés pour la 43ème édition des Annie Awards ont été dévoilés ; la liste est reproduite ci-dessous. Les vainqueurs seront dévoilés le 6 février prochain.
D'ici là, n'hésitez pas à nous faire part de vos pronostics dans les commentaires !
Best Animated Feature
Anomalisa, Paramount Pictures
Inside Out, Pixar Animation Studios
Shaun the Sheep The Movie, Aardman Animations
The Good Dinosaur, Pixar Animation Studios
The Peanuts Movie, Blue Sky Studios, Twentieth Century Fox Animation
Best Animated Special Production
Elf: Buddy's Musical Christmas, Warner Bros. Animation
He Named Me Malala, Parkes-MacDonald / Little Door
I Am A Witness, Moonbot Studios
Kite, Games
Kurt Cobain: Montage of Heck, End of Movie, LLC
Niko and the Sword of Light, Titmouse, Inc. / Amazon Studios
Best Animated Short Subject
Carface, National Film Board of Canada
DISSONANCE, frameboX
If I was God, National Film Board of Canada
On Ice.Google/Evil Eye Pictures
Sanjay's Super Team, Pixar Animation Studios
World of Tomorrow, Don Hertzfeldt
Best Animated Television/Broadcast Commercial
Chex Party Mix: "Holiday Magic," Stoopid Buddy Stoodios
Man and Dog, Psyop
Michelin Total Performance: "All the Performances In Every Tire,"Moonbot Studios
We Are All Farmers, Acme Filmworks
Best Animated Television/Broadcast Production For Preschool Children
Bubble Guppies, Episode: 326 – "Super Guppies!", Nickelodeon Nelvana
PAW Patrol, Episode: 213, Pups Save A MerPup, Spin Master Nickelodeon
Peter Rabbit, Episode: 216 – The Kitten and Pig Adventure, Nickelodeon Productions Silvergate Media
Sheriff Callie's Wild West, Episode: #201A "The Good, the Bad & the Yo-Yo," Wild Canary Animation / Disney Junior
Transformers Rescue Bots, Episode: "I Have Heard The Robots Singing," Hasbro Studios
Tumble Leaf.Episode: Mirror, Amazon Studios and Bix Pix Entertainment
Best Animated Television/Broadcast Production For Children
Clarence, Episode: Turtle Hats, Cartoon Network
Gravity Falls, Episode: Not What He Seems, Disney Television Animation
Harvey Beaks, Episode: A Day of No To-Do, Nickelodeon
Sanjay & Craig, Episode: Street Dogg, Nickelodeon
Star vs. the Forces of Evil, Episode: Blood Moon Ball. Disney Television Animation
Steven Universe, Episode: Jail Break, Cartoon Network Studios
Wander Over Yonder, Episode: The Breakfast, Disney Television Animation
Best General Audience Animated Television/Broadcast Production
Bob's Burgers, Episode: Can't Buy Me Math, Twentieth Century Fox Television Bento Box Entertainment
BoJack Horseman, Episode: Brand New Couch, The Tornante Company
Moonbeam City, Episode: Quest for Aquatica, Titmouse, Inc. / Comedy Central
The Simpsons, Episode: Halloween of Horror, Gracie Films in Association with 20th Century Fox Television
Best Animated Feature-Independent
Boy and the World, Filme de Papel
Kahlil Gibran's The Prophet, Ventanarosa
The Boy and the Beast, Studio Chizu
When Marnie Was There, Studio Ghibli
Best Student Film
Can I Stay?, Ringling College
Dodoba, YonHuiLee
Ed, Taha Neyestani
Life Smartphone, Xie Chenglin
Mother, Stephanie Chiew
Nice To Meeteor You, YizhouLi
Shift, Maria Cecilia Puglesi
The Casebook of Nips & Porkington, Melody Wang
Animated Effects in an Animated Production
Home, DreamWorks Animation. Effects Lead: Greg Gladstone; Effects Lead: Tim Hoff; 
Effects Lead: Mark Newport; Effects Lead: Jason Rickwald; Effects Lead: Stephen Wood.
Hotel Transylvania 2, Sony Pictures Animation. Character Effects Supervisor: Chris Logan; Character Effects Supervisor: Brian Casper; Character Effects Lead: Gavin Baxter; Character Effects Lead: William Eckroat.
Inside Out, Pixar Animation Studios. Effects Artist: Amit Baadkar; Effects Artist: Dave Hale; 
Effects Artist: Vincent Serritella; Second Unit & Crowds Animation Supervisor: Paul Mendoza.
Minions, Illumination Entertainment. Computer Graphic Supervisor: Frank Baradat; 
Computer Graphic Supervisor: Antonin Seydoux; Effects Supervisor: Milo Riccarand; Lighting & Composite Supervisor: Nicolas Brack.
The Good Dinosaur, Pixar Animation Studios. Effects Supervisor: Jon Reisch; 
Effects Lead: Stephen Marshall Volumetric Clouds Architect: Magnus Wrenninge; 
Development & Effects Artist: Michael Hall; Effects Technical Lead: Michael K. O'Brien;
The SpongeBob Movie: Sponge Out of Water, Paramount Animation. Effects Animation Supervisor: Brice Mallier; FX Animation Supervisor: Paul Buckley;
 FX Animator: Brent Droog; 
FX Animator: Alex Whyte; Lead FX Animator: Jonothan Freisler
Animated Effects in a Live Action Production
Jurassic World – Animated Effects, Universal Studios / Legendary Pictures. Effects TD Supervisor: Raul Essig; Digital Artist: Roman Schmidt; Digital Artist: Mark Chataway; Digital Artist: Ryan Hopkins.
Marvel's Avengers:Age of Ultron– Sokovia Destruction
, Marvel Studios. Creature Sim Supervisor: Michael Balog; Creature Simulation Lead: Jim Van Allen; Effects Simulation Supervisor: Florent Andorra; Effects Lead: George Kaltenbrunner.
Maze Runner: The Scorch Trials, Gotham Group 20th Century Fox. FX Supervisor: Ronnie Menahem; CG Supervisor: Pavani Rao Boddapati; Lighting TD: Francois Sugny;
 Models: Leslie Chan; 
FX TD: Nicolas Petit.
The Hobbit: The Battle of the Five Armies.New Line Cinema Metro-Goldwyn-Mayer (MGM) WingNut Films 3Foot7. FX Supervisor: Ronnie Menahem; Lead FX TD: Brian Goodwin
; FX Supervisor: Jason Lazaroff
; Senior Environment Artist: Paul Harris; Lead Modeller: James Ogle.
Character Animation in an Animated Television / Broadcast Production
Dragons: Race to the Edge, Episode: "Have Dragon Will Travel, Part 2," DreamWorks Animation Television. Lead Animator: Yong-Zhi Sun Character: Heather, Windshear, Astrid, Hiccup
Dragons: Race to the Edge, Episode: "Have Dragon Will Travel, Part 1," DreamWorks Animation Television. Character Animator: Chi-Ho Chan Character: Heather, Windshear, Dagur, Savage, Hiccup, Toothless, Berserkers
Elf: Buddy's Musical Christmas, Episode: Elf: Buddy's Musical Christmas, Screen Novelties Warner Bros Animation. Character Animator: Alfonso Estrada Character: Buddy, Jovie
Elf: Buddy's Musical Christmas, Episode: Elf: Buddy's Musical Christmas . Screen Novelties Warner Bros Animation. Character Animator: Scott Daros Character: Buddy, Jovie, Fake Santa #1, fake santas
Peter Rabbit, Episode: 216 – The Kitten and Pig Adventure. Nickelodeon Productions Silvergate Media. Character Animator: Maurizio Parimbelli Character: Peter, Benjamin, Lily, Mittens, Pig Robinson, Ducklings
Turbo FAST, Episode: "Turboldly Go," DreamWorks Animation Television. Character Animator: Ryan MacNeil Character: Smoove Move, Chet, Incidental Characters, EFX
Wander Over Yonder, Episode: The Good Bad Guy, Disney Television Animation. Character Animator: Justin Nichols Character: Lord Hater
Character Animation in an Animated Feature Production
Home, DreamWorks Animation. Animation Supervisor : Mark Donald Character: Various
Inside Out, Pixar Animation Studios. Animator: Allison Rutland Character: All Characters
Inside Out, Pixar Animation Studios. Animator: Travis Hathaway Character: All Characters
Minions, Illumination Entertainment. Animator: Hichem Arfaoui Character: Herb & Scarlet Overkill, Kevin, Stuart & Bob
The Good Dinosaur, Pixar Animation Studios. Animator: Mark C. Harris Character: All Characters
The Good Dinosaur, Pixar Animation Studios. Animator: K.C. Roeyer Character: All Characters
The Peanuts Movie, Blue Sky Studios, Twentieth Century Fox Animation. Lead Animator: BJ Crawford Character: Multiple Characters
Character Animation in a Live Action Production
Jurassic World – Indominus Rex, Universal Studios / Legendary Pictures, VFX Animation Supervisor: Glen McIntosh Associate Animation Supervisor: Kevin Martel
, Lead Animator: Kyle Winkelman; Digital Artist: Rodrick Fransham Creature Supervisor: Kaori Ogino
Marvel's Avengers: Age of Ultron – The Hulk, Marvel Studios. Assoc. Animation Supervisor: Jakub Pistecky; Animator: Gang Trinh; 
Animator: Craig Penn; 
Lead Animator: Mickael Coedel; Lead Animator : Yair Gutierrez
Marvel's Avengers: Age of Ultron – Ultron, Marvel Studios, Lead Animator: Peter Tan; Animator: Boonyiki Lim; Animator: Sachio Nishiyama; Animator: Byounghee Cho; Animator: Roy Tan
The Hobbit: The Battle of the Five Armies – AZOG, New Line Cinema Metro-Goldwyn-Mayer (MGM) WingNut Films 3Foot7. Animation Supervisor: Aaron Gilman, Senior Facial Modeller: Howard Sly, Lead Animator: Matthew Riordan, Creature TD: Kevin Kelm, Lead Shader TD: Guillaume Francois
The Hobbit: The Battle of the Five Armies – SMAUG, New Line Cinema Metro-Goldwyn-Mayer (MGM) WingNut Films 3Foot7. Animation Supervisor: David Clayton, Creature Supervisor: Gios Johnston, Senior Modeller: Andreja Vuckovic, Lead Shader TD: Guillaume Francois, Senior Animator: Daniel Zettl
The Revenant – Judy, Regency Enterprises, New Regency Pictures, Anonymous Content, M Productions, Appian Way, RatPac-Dune Entertainment. Animation Supervisor: Matthew Shumway, Lead Digital Artist: Adrian Millington, Digital Artist: Blaine Toderian
, Digital Artist: Alexander Poei, Digital Artist: Kevin Lan
Character Animation in a Video Game
Armikrog, Pencil Test Studios, Inc. Lead Animator: Mike Dietz Character: All Characters
Evolve, 2K Games, Character Animator: David Gibson Character: Daisy, Goliath, Kraken
Invisible, Inc., Klei Entertainment Inc. Character Animator: Bruce Chang Character: Decker, Central, Nika, Guards
Character Design in an Animated Television / Broadcast Production
Breadwinners, Episode: Wrath of the Pizza Lord, Nickelodeon in association with Titmouse Canada Animation, Inc. Character Designer: Junpei Takayama Character: DuckBuhdeuce Pizza Winner A, DuckSwaySway Pizza Winner A, Mushroom Worker A, Onion Worker A, Pepperoni Worker A, Pizza Lord A, Pizza Lord Mechanical Arms A, Pizza Lord Muscle A, Pizza Lord Fat A, Pizza Lord Small A, Spider A
Elf: Buddy's Musical Christmas, Episode: Elf: Buddy's Musical Christmas, Screen Novelties Warner Bros Animation. Character Designer: Craig Kellman Character: Buddy, Jovie, Walter Hobbs, Michael Hobbs, Mr. Greenway, Chadwick & Matthews, Santa Claus, Background Characters
Harvey Beaks, Episode: Night Club Night, Nickelodeon. Character Designer: David Tilton Character: Harvey in Club Suit Harvey in Leotard Club Dance Circle Bouncer Club Incidentals Bunny Protest DJ Dade on Sugar Techno Bear in Club Outfit Jeremy as Bartender Irving in Apron Miriam in Apron
Pickle and Peanut, Episode: Swim Lessons, Disney Television Animation. Lead Character Design : Tapan Gandhi Character: Multiple
Pig Goat Banana Cricket, Episode: Pig Goat Banana Cricket High Five!, Nickelodeon. Co-Creator: Dave Cooper Character: Pig, Goat, Banana, Cricket, Captain Sassafras Mr. Manelli, Dog Cart, Picklemart Mascot, Shragger, Rasta Rat, Love Comet, Burgerstein Junior Ranger Sneezy, Butt Monster Angel, Dog Cart Babies. Design Supervisor: Mike Dougherty Character: Incidental Store Clerk 0001, Incidental Animal 0049, Sludge Monster. Character Designer: Jennifer Wood Character: Clerk McGirk, Adult 0011, Kid 0012, Kid 0008, Adult 0037, Adult 0010, Animal 0052, Prince Mermeow, Animal 0031, Animal 0025, Animal 0016, Animal 0050, Animal 0008, Animal 0002, Animal 0001, Animal 0007, Animal 0004, Animal 0003, Animal 0059, Animal 0048, Animal 0006 and more. 
Character Designer: Steve Hirt Character: Junior Ranger Elephant
Pig Goat Banana Cricket, Episode: Miss Cutesy Meow Meows, Nickelodeon. Character Designer: Gordon Hammond; Character: Incidental Scientist, Crowd, Treehouse Bot, Incidental Cab Driver. Character Designer: Steve Hirt; Character: Pig in Picklemart, Uniform Psychopath, Giraffe, Pigeon, Workers, Movie Director, Clam Blaster, Player 2, President of Planet as Muscle Man, Exquisite Frog, Incidental Clown, Incidental Production Assistant . Character Designer: Jennifer Wood; Character: Mr. Manelli, Goat in Swimwear, Art Director: Mike Dougherty; Character: Monster, Weasel, Banana, Bot, Dr. Eggplant Face
The Mr. Peabody and Sherman Show, Episode: "New Sponsor/ Cleopatra," DreamWorks Animation Television. Character Design Supervisor: Chris Mitchell; Character: Various. 
Character Designer: Keiko Murayama; Character: Various
Character Design in an Animated Feature Production
Hotel Transylvania 2, Sony Pictures Animation. Character Designer: Craig Kellman; Character: Dennis, Dennis Bat, Vlad, Wuzzlelumplebum, Brandon, Linda, Mike, Johnny's sister. Character Design: Stephen DeStefano; Character: Kelsey, Cronies
Inside Out, Pixar Animation Studios. Character Art Director: Albert Lozano; Character: All Characters. 
Character Artist: Chris Sasaki; Character: All Characters
Minions, Illumination Entertainment. Character Designer: Eric Guillon; Character: Herb Overkill, Scarlet Overkill, Minions, Yeti,
The Good Dinosaur, Pixar Animation Studios, Character Art Director: Matt Nolte; Character: All Characters
Directing in an Animated Television / Broadcast Production
Archer, Episode: Edie's Wedding, FX Productions. Director: Bryan Fordney
Disney Mickey Mouse, Episode: Coned, Disney Television Animation. Director: Dave Wasson
Dragons: Race to the Edge, Episode: "Reign of Fireworms," DreamWorks Animation Television. Director: TJ Sullivan
Elf: Buddy's Musical Christmas, Episode: Elf: Buddy's Musical Christmas, Screen Novelties Warner Bros Animation. Director: Mark Caballero, Director: Seamus Walsh
Gravity Falls, Episode: Northwest Mansion Mystery, Disney Television Animation. Director: Matt Braly
Mickey Mouse, Episode: Bottle Shocked, Disney TVA. Director: Heiko Drengenberg
Pickle and Peanut, Episode: Pickle the Falcon Master, Disney Television Animation. Director: Ken Wong
Steven Universe, Episode: The Test, Cartoon Network Studios. Director: Ian Jones-Quartey
Directing in an Animated Feature Production
Anomalisa, Paramount Pictures. Director: Charlie Kaufman. Director: Duke Johnson
Extraordinary Tales, Melusine Productions and R&R Communications, Director: Raul Garcia
Inside Out, Pixar Animation Studios, Director: Pete Docter
Kahlil Gibran's The Prophet, Ventanarosa, Director: Roger Allers
Shaun the Sheep The Movie, Aardman Animations. Director: Mark Burton. Director: Richard Starzak
The Peanuts Movie, Blue Sky Studios, Twentieth Century Fox Animation. Director: Steve Martino
When Marnie Was There, Studio Ghibli. Director: Hiromasa Yonebayashi
Music in an Animated Television / Broadcast Production
Disney Mickey Mouse, Episode: ¡Feliz Cumpleaños!, Disney Television Animation. Composer: Christopher Willis
Elf: Buddy's Musical Christmas, Episode: Elf: Buddy's Musical Christmas, Screen Novelties Warner Bros Animation. Composer/Lyricist: Matthew Sklar. Composer/Lyricist: Christopher Guardino
Puffin Rock, Episode: Night Lights, Cartoon Saloon, Dog Ears, Penguin Books. Composer/Lyricist: Einar Tonsberg
Sanjay & Craig, Episode: Street Dogg, Nickelodeon. Lyricist: Nick Bachman
Lyricist: Neil Graf
Composer: Matt Mahaffey Composer/Lyricist: Jonathan Hylander (Music Editor)
Sheriff Callie's Wild West, Episode: #201A "The Good, the Bad & the Yo-Yo," Wild Canary Animation / Disney Junior. Composer/Lyricist: Mike Himelstein. Lyricist: Joe Ansolabehere. Composer: Mike Barnett
The Venture Bros: All This And Gargantua- 2
Titmouse, Inc. / Adult Swim. Composer/Lyricist: J.G. Thirlwell
Wander Over Yonder, Episode: The Black Cube, Disney Television Animation. Composer: Andy Bean
Music in an Animated Feature Production
Anomalisa, Paramount Pictures. Composer: Carter Burwell
Batman Unlimited: Monster Mayhem, Warner Bros. Animation. Composer: Kevin Riepl
Boy and the World, Filme de Papel. Composer: Ruben Feffer
. Composer: Gustavo Kurlat. 
Composer: GEM Grupo Experimental de Música
. Composer/Lyricist: Emicida
Inside Out, Pixar Animation Studios. Composer: Michael Giacchino
The Good Dinosaur, Pixar Animation Studios. Composer: Mychael Danna. Composer: Jeff Danna
Production Design in an Animated Television / Broadcast Production
Dawn of the Croods, Episode: "Garden of Eaten," DreamWorks Animation Television. Production Design: Jonathan Pyun. Production Design: Aaron Spurgeon. Production Design: Baptiste Lucas. Production Design: Margaret Wuller. Production Design: Ethan Becker
Fresh Beat Band of Spies, Episode: 107, Singing Pirate, Nickelodeon Productions 6 Point 2 Nelvana. Production Design: Ernie Gilbert. Production Design: Kristin Donner. Production Design: Steve Meyers. Production Design: Fred Gardner. Production Design: David Cole
Gravity Falls, Episode: Xpcveaoqfoxso (Weirdmageddon). Disney Television Animation. Production Design: Ian Worrel. Production Design: Jeffrey Thompson
Pig Goat Banana Cricket, Episode: Happy Chalawunga! Nickelodeon. Production Design: Dave Cooper. Production Design: Mike Dougherty. Production Design: Francis Giglio
Pig Goat Banana Cricket, Episode: Prank Thy Neighbor, Nickelodeon. Production Design: Dave Cooper. Production Design: Mike Dougherty. Production Design: Francis Giglio
Puffin Rock, Episode: Night Lights, Cartoon Saloon, Dog Ears, Penguin Books. Production Design: Lily Bernard. Production Design: Marie Thorhauge. Production Design: Stefano Scapolan
The Mr. Peabody and Sherman Show, Episode: "Peabody's Parents/Galileo," DreamWorks Animation Television. Production Design: Kevin Dart. Production Design: Sylvia Liu. Production Design: Chris Turnham. Production Design: Eastwood Wong
Production Design in an Animated Feature Production
Boy and the World, Filme de Papel. Production Design: Alê Abreu
He Named Me Malala, Parkes-MacDonald / Little Room. Production Design: Jason Carpenter
Home, DreamWorks Animation. Production Design: Emil Mitev
Inside Out, Pixar Animation Studios Production Design: Ralph Eggleston
Minions, Illumination Entertainment. Production Design: Eric Guillon
Shaun the Sheep The Movie, Aardman Animations. Production Design: Matt Perry Production Design: Gavin Lines
The Good Dinosaur, Pixar Animation Studios, Production Design: Harley Jessup. Production Design: Sharon Calahan. Production Design: Bryn Imagire. Production Design: Noah Klocek. Production Design: Huy Nguyen
#24 Storyboarding in an Animated Television / Broadcast Production
Adventure Time, Episode: Walnuts & Rain, Cartoon Network Studios. Storyboard Artist: Tom Herpich
Disney Mickey Mouse, Episode: ¡Feliz Cumpleaños!, Disney Television Animation. Storyboard Artist: Alonso Ramirez Ramos
Dragons: Race to the Edge, Episode: Eye of the Beholder (Part 1 and 2), DreamWorks Animation. Storyboard Artist: Heidi Jo Gilbert
Niko and the Sword of Light, Episode: (pilot), Titmouse, Inc. / Amazon Studios. Storyboard Artist: Sung Jin Ahn, Storyboard Artist: Ben Juwono, Storyboard Artist: David Woo, Storyboard Artist: Donna Lee
Steven Universe, Episode: Jail Break, Cartoon Network Studios. Storyboard Artist: Joe Johnston. Storyboard Artist: Jeff Liu. Storyboard Artist: Rebecca Sugar
The Adventures of Puss in Boots, Episode: "Hidden," DreamWorks Animation Television. Storyboard Artist: Ben Juwono
Wander Over Yonder, Episode: The Breakfast, Disney Television Animation. Storyboard Artist: Justin Nichols
We Bare Bears, Episode: Burrito, Cartoon Network Studios. Storyboard Artist: Madeline Sharafian. Storyboard Artist: Manny Hernandez. Storyboard Artist: Bert Youn
Storyboarding in an Animated Feature Production
Extraordinary Tales, Melusine Productions and R&R Communications. Storyboard Artist: Antonio Santamaria
Hotel Transylvania 2, Sony Pictures Animation. Storyboard Artist: Mike Smukavic
Inside Out, Pixar Animation Studios. Storyboard Artist: Tony Rosenast
Inside Out, Pixar Animation Studios. Storyboard Artist: Domee Shi
Minions, Illumination Entertainment. Storyboard Artist: Habib Louati
The Good Dinosaur, Pixar Animation Studios. Storyboard Artist: Bill Presing
The Good Dinosaur, Pixar Animation Studios. Storyboard Artist: Rosana Sullivan
The Good Dinosaur, Pixar Animation Studios. Storyboard Artist: J.P. Vine. Storyboard Artist: Tony Rosenast. Storyboard Artist: Enrico Casarosa
#26 Voice Acting in an Animated Television / Broadcast Production
Bob's Burgers, Episode: Hawk & Chick, Twentieth Century Fox Television Bento Box Entertainment. Starring: Kristen Schaal. Character: Louise Belcher
Breadwinners, Episode: Movie Ducks, Nickelodeon in association with Titmouse Canada Animation Inc. Voiced By: Eric Bauza. Character: Buhdeuce
Dawn of the Croods, Episode: "The First Picture Show", "School of Hard Rocks," 
DreamWorks Animation Television. "Lerk": Grey Griffin. Character: Lerk
Dawn of the Croods.Episode: "The First Picture Show," "Mom Genes," DreamWorks Animation Television. "Amber": Larainne Newman. Character: Amber
Pig Goat Banana Cricket, Episode: Underpants-Palooza, Nickelodeon. Voice Actor: Matt Jones. Character: Pig
Star vs. the Forces of Evil, Episode: Compilation from Series, Disney Television Animation. Alan Tudyk: Alan Tudyk. Character: Ludo
The Adventures of Puss in Boots, Episode: Various, DreamWorks Animation Television. "Puss in Boots": Eric Bauza. Character: Puss in Boots
Uncle Grandpa, Episode: Uncle Grandpa At The Movies, Cartoon Network Studios. Featured Voice: Kevin Michael Richardson. Character: Mr. Gus
Voice Acting in an Animated Feature Production
Anomalisa, Paramount Pictures. Cast: Jennifer Jason Leigh. Character: Lisa Hesselman
Inside Out, Pixar Animation Studios. Cast: Amy Poehler. Character: Joy
Inside Out, Pixar Animation Studios. Cast: Phyllis Smith. Character: Sadness
Minions, Illumination Entertainment. Cast: Pierre Coffin. Character: The Minions
Minions, Illumination Entertainment. Cast: Jon Hamm. Character: Herb Overkill
The Peanuts Movie, Blue Sky Studios, Twentieth Century Fox Animation. Linus: Alex Garfin. Character: Linus
The Peanuts Movie, Blue Sky Studios, Twentieth Century Fox Animation. Lucy: Hadley Belle Miller. Character: Lucy
The SpongeBob Movie: Sponge Out of Water
, Paramount Animation. Cast: Tom Kenny. Character: SpongeBob
Writing in an Animated Television / Broadcast Production
Adventure Time, Episode: The Diary, Cartoon Network Studios. Writer: Kent Osborne. Writer: Pendleton Ward. Writer: Jack Pendarvis. Writer: Jillian Tamaki. Writer: Adam Muto
Bob's Burgers, Episode: The Hauntening, Twentieth Century Fox Television, Bento Box Entertainment. Writer: Steven Davis. Writer: Kelvin Yu
Gravity Falls, Episode: Not What He Seems, Disney Television Animation. Writer: Alex Hirsch. Writer: Shion Takeuchi. Writer: Josh Weinstein. Writer: Jeff Rowe. Writer: Matt Chapman
The Simpsons, Episode: I Won't Be Home For Christmas, Gracie Films in Association with 20th Century Fox Television. Writer: Al Jean
Writing in an Animated Feature Production
Inside Out, Pixar Animation Studios. Writer: Pete Docter. Writer: Meg LeFauve. Writer: Josh Cooley
Shaun the Sheep The Movie, Aardman Animations. Writer: MarkBurton. Writer: Richard Starzak
When Marnie Was There, Studio Ghibli. Writer: Hiromasa Yonebayashi
Editorial in an Animated Television / Broadcast Production
All Hail King Julien, Episode: "Body Double," DreamWorks Animation Television. Nominee: David Craig. Nominee: Jeff Adams
Disney Mickey Mouse, Episode: Coned, Disney Television Animation. Nominee: Illya Owens
Dragons: Race to the Edge, Episode: "Dragon Eye of the Beholder, Part 1," DreamWorks Animation Television. Nominee: John Laus
Elf: Buddy's Musical Christmas, Episode: Elf: Buddy's Musical Christmas, Screen Novelties Warner Bros Animation. Nominee: Mike Wright
Lost Treasure Hunt, Episode: Columbus Voyage Revisited. Argosy Film Group. Nominee: Nolan Southerland. Nominee: William Kessler. Nominee: Benjamin Rush
Phineas and Ferb, Episode: Last Day of Summer, Disney Television Animation. Nominee: Anne Harting. Nominee: Shawn Lemmonier. Nominee: Lauren Crist. Nominee: Carmen Woods
Star vs. the Forces of Evil, Episode: Storm the Castle, Disney Television Animation. Nominee: Ted Supa
Editorial in an Animated Feature Production
Anomalisa, Paramount Pictures. Nominee: Garret Elkins
Inside Out, Pixar Animation Studios. Nominee: Kevin Nolting
Kahlil Gibran's The Prophet, Ventanarosa. Nominee: Jennifer Dolce
Shaun the Sheep The Movie, Aardman Animations. Nominee: Sim Evan-Jones