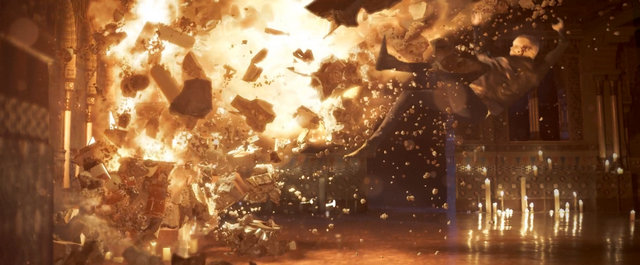 Mise à jour du 11 décembre : un making-of de PyroVFX centré sur les effets de fumée a été ajouté en fin d'article.
Publication initiale le 3 décembre 2015.
Dans les bidonvilles du futur, les drogués de la réalité virtuelle assouvissent leurs impulsions violentes en ligne… Un joueur découvre que la limite entre réalité et virtuelle commence à s'estomper.
Réalisé par Federico Heller, le court-métrage Uncanny Valley nous offre une vision du futur loin d'être idyllique. Le projet nous vient tout droit du studio créatif 3DAR, situé à Buenos Aires. Celui-ci propose d'ailleurs sur son site concept arts, storyboards, color scripts et photos de tournage.
UNCANNY VALLEY (2015) from 3DAR on Vimeo.
Written and Directed by: Federico Heller
Executive Producers: German Heller, Brandon Maseda
Animation Director: Fernando Maldonado
VFX Production Designer: Jorge Tereso
Lead VFX Artist: Federico Carlini
Lead 3D Artist: Marco Lococo
VFX Supervisor: Federico Heller
Digital Art Director: Pablo Olivera
CGFX TD: Alan RInaldi
VFX Production Coordinator: Maria José Tabares
Lighting TD: Alejandro Turano
Colorist: Daniel Calvo
Roto / Track: Julián Coutada
Compositors: Ignacio Arevalo, Daniel Perez, Nicolas Valese, Lucas Carracedo, Santiago Iturmendi
Producer: Federico Heller
Assistant Director: Nazareno Alba, Celeste Lois
Director of Photography: Nicolas Trovato, Fernando Lorenzale
Art Director: Lola Sosa
Original Score: Cyrille Marchesseau
Music Mix: Rodolphe Gervais
Audio Post by Impossible Acousetic: Brendan J. Hogan, Jamie Hunsdale
Matte Painting: Pablo Olivera, Pablo Palomeque
Modeling: Javier Carabajal
Storyboard and Previs: Fernando Maldonado
Software Developer: Martin Buezas
Editor: Federico Heller
Additional Smoke Simulations: Pyro Fx
Graphic Design: Miguel Vega, Laura Guarie
Motion Graphics: Nicolas Cesani
Production Manager: Francisco Larralde, German Heller
Production Assistant: Regina Porchietti
Camara Operator: Anabella Goldberger, Rodolfo Julian, Horacio Diaz Seijas
Camara Focus: Ezequiel Di Grillo, Nicolas Gombinsky
Steady Cam Op: Francisco Quiros
Gaffer: Gustavo Zakin, Franco Ariel Ivanoff, Damian Bonda
Sound Recorder: Miren Begoña Cortazar, Pablo Bustamante
Costume Design: Barbara Zago, Renata Agulla
Art Assistant / Set Design: Gaby Luna Crook
HD Technician: Gonzalo Quesada
Casting: Flor Limonoff, Fauna
FX / Stunts: The Action Company
Drone Shots by: Superplano
Catering: Barbara Gambetta, Delfina Ekmekdjian
Cast (in order of appearance): Marcela Sandra Ballestero, Steve Kisicki, Ivan Steinhardt, Agustin Olcese, Raymond Lee, Nicole Apstein
Creative & Production Support: Santiago Tereso, Julian Dorado, Erica Villar, Marina Muñoz
Special Thanks To: Dan Ventresca, Carlos Bobadilla, Francisco Quiros, Federico Posternak, Javier Drucaroff, Natalia Toriano, Matias Guilhou, Mariano Rodriguez, Veronica Intile, Josefina Villar, Paola Tambellini
Uncanny Valley: Smoke RnD from PyroVFX on Vimeo.