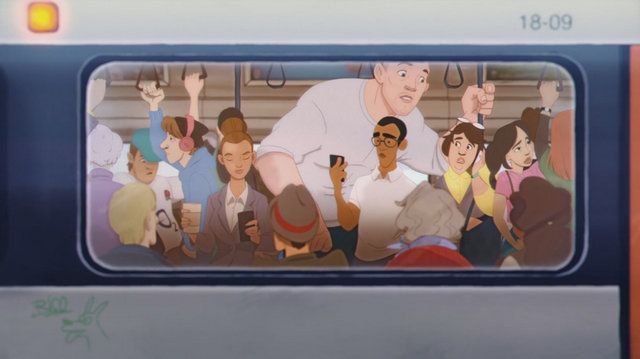 Elliot Dear a réalisé chez Blink le spot Make Them Giants, destiné à promouvoir la marque 02. Cette dernière est le sponsor officiel de l'équipe de rugby anglaise pour la prochaine coupe du monde.
O2 – Make Them Giants from Blink on Vimeo.
Crédits :
Agency – VCCP
Creative Directors – Johnny Parker
Chris Birch
Creatives – Tom Houser
Christopher Keatinge
Agency Producer – Ben Honour
Production
Exec Producer – James Stevenson Bretton
Bart Yates
Director – Elliot Dear
Producer – Benjamin Lole
Production Manager and Editor – Hugo Donkin
Digital and Print Assets Producer – Emily Lay
Supervising Animator and Storyboard artist – Michael Schlingmann
Additional Storyboarding – Simon Cartwright.
Character design – Chase Standley
Cécile Le Carre
Additional Design and Artworking – Stephen Macnally
Lead Bg designer and Concept Artist – Julien De Man
Bg artists – Nicolas Loudot
Michael Shorten
Rafael Martin Coronel
Key animators – Slaven Reese
Aya Suzuki
Freya Hotson
Philip Vallentin
Colour, Clean up and additional animation –
Salla Lehmus
Sean Weston
Blanca Martinez
Joseph Sparkes
Frankie Swan
Yu Knifeson
Hamish Steele
Margot Roquelaure
Chun Huang
Hozen Britto
Emma Louise Wakely
Duncan Gist
Clean up and Inbetweening –
Premise Entertainment
Head of Production –
Dominic Carola
Head of Clean Up –
Janelle Bell-Martin
Clean Up / Final Line Artists –
Mi Yul Lee
Chad Thompson
Jason Peltz
James Harris
Hugo Giraud
Jacqueline Pierro
Additional Clean Up Artists –
Pete Raymundo
Erin Humiston
Joel Biske
Finance Manager / line producer –
Iris Pearson
Production Coordinator –
Mac Masters
Production Assistants –
Robbie Laudati
Love Carola
POST PRODUCTION
Lead Compositor –
Tom Readdy
Lead CG and Layout artist –
Johannes Sambs
Additional CG Layouts –
Stephen Macnally
Additional Tracking and Compositing –
Alasdair Brotherston
Felip Docolomansky
Gustaf Georg Lindström
Sara Aunbirk
Qian Shi
David O'neill
Grade – Houmam at ETC.
Music Supervisors – Major Tom
Score Composer – Theo Vidgen
Sound – Factory